The most common prostate health problem in men over 50 years of age is the enlarged prostate, also known as benign prostatic hyperplasia (BPH). Find out how healthy your prostate is by means of this IPSS* based test which is used in the assessment of lower urinary tract symptoms.

Answer the questions below to find your Prostate Symptom Score
Result:
Please note information given is not intended to diagnose, prescribe or replace the advice of a doctor or other healthcare professional.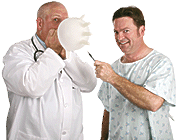 What does a medical prostate test involve?
Most men will, at some point in their lives, be offered a prostate test. This could be because they are experiencing problems with urination, because they are over 50 or simply as part of a general health check. This examination could be carried out by a general practitioner or a dedicated prostate specialist.
The initial examination will involve a digital rectal examination - this basically means your doctor will insert a gloved and well lubricated finger a short way into the rectum. Although this could be described as being uncomfortable, it is generally entirely painless, and the whole process including an initial discussion should take no more than two or three minutes.
Should the GP or prostate specialist detect that the prostate is enlarged they would commonly request some laboratory tests such as PSA (Prostate Specific Antigen) levels, which would confirm the reason for the enlarged prostate symptoms.
* International Prostate Symptoms Score
Barry MJ, et al. (1992). The American Urological Association symptom index for benign prostatic hyperplasia. Journal of Urology, 148: 1549–1557.