Extracts of fresh Arnica montana flower heads, provide a Gel that helps relieve symptoms including:
Stiffness
Aches & Pains
Sprains
Bruises & Swelling
Atrogel Arnica gel is a traditional herbal medicinal product for use in the symptomatic relief of muscular aches, pains and stiffness, sprains, bruises and swelling after injury, exclusively based upon long-standing use as a traditional remedy.
Atrogel is a herbal remedy made from extracts of fresh Arnica flowers and is an easy-to-apply, non-greasy gel. It is ideal if you are looking for a treatment to relieve pain in conditions such as muscle pains, muscle aches, stiffness or after sporting injuries. It can be used up to 4 times a day. Always read the leaflet.

Atrogel Arnica Gel in-pack leaflet (download pdf 71kb)

Product Information (download pdf 340kb)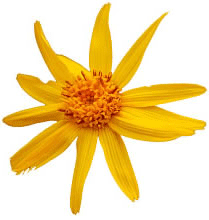 Ingredients:
The active ingredient is the liquid extract of fresh Arnica flowers.
1g of gel contains 500mg of extract which is equivalent to an average of 160mg fresh Arnica flowers.
The other ingredients are ethanol, purified water, glycerol (plant origin) and hypromellose (thickener).
For more information on the herb Arnica
click here
Directions for use:
Before first use check that the tube seal is not broken. Remove tube seal before use.
Adults: Apply 2 - 10cm gently to the affected area. Use 2 to 4 times a day.
Children and the elderly: Follow the adult dose.
For external use only. Always read leaflet before use.
Consult a doctor, pharmacist or healthcare practitioner if symptoms persist or adverse effects not mentioned in the package leaflet occur.
Do not use in or near eyes, nose, mouth and other sensitive areas.
Discontinue use if redness, irritation or dry skin occurs.
Do not use on broken, cut or irritated skin.
Do not use if you are allergic to Arnica preparations, other members of the daisy (Asteraceae/Compositae) family or any of the other ingredients.
Keep out of the sight and reach of children.