Water Distiller MH943 - Stainless steel boiler – Stainless steel condenser
Have you ever been offered absolutely pure water?
Probably not
The fact is all tap water contains a mix of pollutants.  Even bottled water contains impurities.
The only guaranteed way to get absolutely pure water is steam distillation using a water distiller. Distilled water is 99.8% pure water.  By using a water distiller you get water that is purer than any bottled or tap water and purer than any other type of filtration or purification Add the convenience of a counter top unit with no installation required and you have the perfect way to ensure that you have safe pure water everywhere you go.
Steam Distillation Technology
Steam distillation plus carbon filtration provides you with clean, pure, safe drinking water while enhancing the natural flavour of juices, soups, coffee, tea and other beverages. Distillation effectively removes contaminants such as bacteria, dissolved solids, heavy metals, chemicals, pesticides, insecticides etc.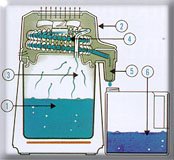 Features:
Water purification by steam distillation & carbon filtration
No installation required, Provides up to 17 litres in 24 hours
Removes lead, arsenic, nitrates, sodium and chromium VI and more.
Reduces 99.9% of Total Dissolved Solids (TDS).
Automatic shut-off after each cycle
Gaseous Vent & Post Carbon Treatment System
Stainless steel boiler – 4 litres capacity
Stainless steel condenser
Enclosed heating element for long life
Portable – ideal for home, boat, travelling etc.
Specifications:
20cm(D) X 36cm (H) x 40 cm (Width)
Net weight 7.75Ibs (3.5 kgs)
Distillate capacity approx. 3.2 litres in 4.5 hours
Will provide up to 17 litres in 24 hours
Power: 240 VAC - 50Hz - 580W (Total)
Heater 565W / Cooling Fan 15W
Detachable Grounded Power Cord

System Package Includes:
Includes 4 litres collector / storage bottle - (Packaged inside of the distiller for delivery)
Includes packet of 6 Replacement Charcoal Sachets (lasts 6 months)
Includes (1 x 250 g) residue cleaner (lasts 6 months)