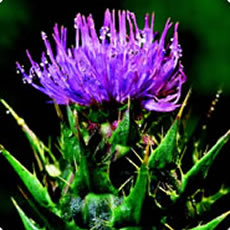 By: Alison Cullen
Milk Thistle is a Mediterranean herb, although it grows wild all over Europe, North America and Australia. Some of the earliest herbal texts mention it for protecting the liver. It was called Marian thistle at one stage, having been dedicated to Mary in the Christian tradition.
More modern day studies suggest that there are active substances in Milk Thistle that act to protect the liver from damage by alcohol and many drugs, as well as toxins from the environment. Many people therefore find it a useful adjunct to a hectic lifestyle, whether they are taking it once a year as part of a detox or spring clean, or taking it more regularly to make up for somewhat hopeful expectations of liver function.

Hereís how Milk Thistle works.
It inhibits the factors responsible for liver damage by altering the liver cell membrane structure, blocking the absorption of toxins into the cells
It stimulates production of new liver cells to replace old damaged ones
One component, Silybin, acts as an antioxidant, stronger than either vitamin C or E
Milk Thistle also raises levels of glutathione (a powerful antioxidant) in the liver
This means that Milk Thistle can protect the liver against the detrimental effects of environmental toxins, alcohol, and recreational or medicinal drugs, and can restore battered livers to better shape by encouraging the growth of new cells. Thatís not to say that you can drink and dope regardless, whilst taking Milk Thistle, but you may experience a slightly reduced hangover if taking it before going out, on returning home, and again with breakfast next day.
Those wishing to help the liver deal with medicinal drugs or environmental toxins that they are unavoidable exposed to, will benefit from taking this herb, as will those wishing to improve fat metabolism, as the liver is responsible for dealing with dietary fats.