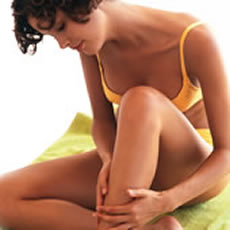 By: Kirian Taylor
We all learn as we go through life that we shouldn't judge a book by its cover or a person by their looks. Without wishing to throw these great truths into doubt, I'd like to suggest that a great deal could be learned by casting an assessing eye over the outer coverings of both literary feast and our fellow humans.
You may not be able to tell, merely by a casual glance, how well written a book is going to be, but you can tell a whole heap about how well its owner has taken care of it. Crumpled pages, scruffy cover, coffee rings, water marks – this book is either serving as a plaything for the baby, or is such a favourite that it goes everywhere with its (loving but careless) reader.
You want your external portions to reflect a caring, respectful attitude to your health. After all, as the old adage goes, 'If you don't take care of your body, where are you going to live?'
It's no good just slathering expensive creams on our outer portions. The outer skin cells are shed about 28 days after their formation, having worked their way to the surface. Working on the outer layer of skin in the hope of improving skin quality is therefore daft as this bit is dead!
Let's look at what can go wrong with the skin, as it's the most visible bit. One of the key concerns is obviously spots, pimples and blemishes. Flaccid, saggy, un-toned skin is also often brought to my attention – many of my menopausal patients worry about their skin giving way. Acne rosacea is another area of concern that tends to surface in middle age.
So what does your skin need in order to shine?
Skip about!
If you are coping with life by lying back on your sofa and contemplating the ceiling, it is unlikely that your tissues are being well served with blood and all the nutrients it contains (e.g. oxygen, iron), nor that they are having the wastes drained away properly. If your muscles are not moving, nothing will flow correctly. If you want your skin to look rosy, get some regular exercise and pump the blood to it!
If circulation is particularly poor, get some Ginkgo biloba to stimulate micro-circulation (the flow of blood into the tiny capillaries that serve outlying areas of the body). Don't smoke, of course – it reduces oxygenation of the skin and is bad for circulation (just in case you didn't know…). It also causes free radicals, which contribute to the formation of wrinkles!
Shore up the subsoil
In order for your epidermis to look good, the connective tissue underneath must be firm. Imagine a tarmac road built on poor quality, crumbling subsoil. As cars drive on it, it will buckle and subside. Similarly, skin built on poor foundations will pucker and wrinkle, losing its tone.
To shore up your epidermis, the underlying layers must contain sufficient silica, one of the key building blocks for connective tissue. Lack of the tarmac-supporting silica will show up as slack, flaccid skin, thin hair, hair loss and fragile nails.
The inner layer of the skin (the dermis) has been shown to thicken within three months of taking colloidal silica, with fewer wrinkles being apparent externally. It makes the skin strong and smooth.
You need to drink water for this to work through. There are still people who think that 20 cups of coffee per day is a good fluid intake. Alcohol also dehydrates the skin, and fizzy water is no good either, containing none of the hydrating properties of the still stuff. Hydrating your body will reduce bags under your eyes, caused by kidney strain.
When you have plenty of water available to your tissues, the transport will be better so wastes will be removed more effectively – fewer spots and blemishes.
Shed the stress
Adrenalin (produced when we're stressed) causes blood to be drained away from the smaller blood vessels in the skin to the major organs – heart, lungs, etc. This leaves you looking pallid and drained. Stress also prevents good sleep, and whilst we are asleep we repair – tissue is rebuilt and regeneration work goes on all over the body. Lack of sleep doesn't just give you dark shadows around your eyes, but reduces skin condition generally. Stress hormones also cause spots, which is probably one of the key reasons we are seeing so much adult acne. Get into vitamin B (which deals with stress and helps to heal the skin) and Passiflora tincture to calm you down.
Stamp out the sugar
Acne is known as 'skin diabetes' in some naturopathic circles, and a problem metabolising sugar and other refined carbohydrates will have a negative effect on the skin.
Acne rosacea, for example, is frequently connected to poor digestion. Improving the strength of the digestive system with stomach bitters such as Centaurium is very useful, and avoiding sugar, caffeine and highly processed foods helps too. A thorough lymphatic cleanse may help and Calendula is traditionally known as having a very positive effect on congested lymphatic systems. I have often found it in conjunction with Echinacea and wild pansy (Viola) astonishingly good for adult acne, and it sometimes helps the more stubborn acne rosacea as well.
Vitamin B and Essential Fatty Acids are also excellent for skin health. If you want to clear your complexion with a quick blast of healthy drinking, go for organic carrot juice. Yum.
Any persistent, 'mystery' skin condition can be tackled with Viola tricolor tincture on its own. This nourishes the skin from inside and removes wastes that might be causing skin to look dull and scurfy.
How about tantalising talons?
As well as giving you splendid skin, colloidal Silica can help strengthen your nails. If you find they are brittle and snap easily, try a calcium supplement as well.