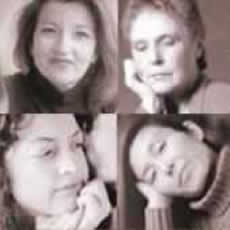 By: Alison Cullen
Have you ever wondered just how herbalists in the past found out that certain herbs had certain effects? How random were their choices and what guided them to the herbs they used? One influencing factor was the 'Doctrine of Signatures' by which the look or habits of a plant were thought to indicate its likely action.
In this way Sage, the pretty purple leaves of which sweat in the sun, was seen to be a sweat-regulator. Sage has been used for this purpose for centuries and based on this long-standing use, is accepted as a traditional herbal remedy for relief of menopausal sweats and hot flushes.
Many women have cause to be grateful to those who originally spotted Sage's potential as a sweat regulator. The most common menopausal symptoms are hot flushes and night sweats, episodes that can ruin sleep and severely undermine a woman's confidence at work and in social situations.
Why do menopausal women sweat?
A number of factors are thought to contribute to excessive sweating during the menopause -but it is by no means a cut and dried subject…
A number of neurotransmitters (substances that help nerve pathways to function correctly) appear to be released inappropriately as hormones decline during the menopause.
These can cause blood vessels to dilate if released in large amounts – which leads to the hot flush.
In addition, neurotransmitters may trigger the release of sweat. The effects can be seen in the 'sweaty palm' syndrome experienced when we are nervous as well as excessive sweating and night sweats during the menopause.
The intake of caffeine-containing foods, such as coffee, can disturb the way our body controls temperature. This is especially so with hot drinks and women may notice that a hot cup of coffee will swiftly be followed by a flush.
The menopause gets a rather rough press as in our society we don't value age and experience as they do in less Westernised cultures. However, it is not inevitably a time of doom and general crumbling.
What can you do?
The experience of naturopaths suggests that there are many things you can do, out of respect for your health, which will help you sail into the next phase of your life with your head held high!
Reduce the amount of animal fats and proteins in your diet. Less red meat and fewer dairy products will reduce the strain on your liver and metabolism. Many people find this improves their skin and helps them shed a few pounds.
Increase the amount of fish you eat. Salmon, mackerel and herring are good choices. Not only do they help keep your heart healthy, they also reduce some menopausal symptoms.
Eat as wide a variety of foods as possible. Go out and experiment! The wider the range of foods you consume, the better the chance that you will get all the nutrients you need. Try vegetables and fruits outside your usual range – there is a wide variety available these days. Use different pulses and beans in your salads – organic varietiesare available in your local health food store. Fifteen different types of chocolate don't count, by the way!
Reduce your stress levels. Tense, pressurised bodies, constantly jumping at shadows, will not produce sane, happy people at any time of life. Gentle exercise will ward off depression and heart disease, strengthen bones and increase energy levels. Just walking briskly round the block several times a week is a good start.
Alcohol and tobacco are two of the greatest culprits in the development of osteoporosis, as well as harming your liver and ruining your complexion. You know this! Don't blame your hormones for the results of your lifestyle choices.
If you are looking for a registered herbal remedy containing Sage herb extract to help with menopausal sweats and hot flushes, you may wish to consider Menoforce Sage tablets made with extracts of freshly harvested herbs.