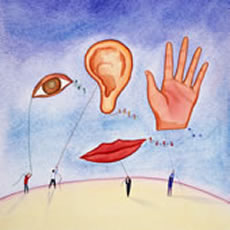 By: Kayla Campbell
The capacity to see, hear, smell and taste the wonders of the world around us once allowed us to survive. Nowadays they are not imperative to existence: we don't need to listen for enemies, sniff out food sources or scan the far horizons for smoke signals; we have endless amounts of technology to do the work of our senses and the power of these senses has therefore diminished with disuse.
Our ears used to move like animals' ears still can (which is why those of us with primitive genes can still waggle them) and our eyes used to be set further apart to give us a broader visual scope, keeping us safe from potential harm. We may be quite happy to have ears that don't swivel, but we will always enjoy the world around us more if our senses work to the best of their still remarkable abilities.
SMELL
What it does for you
Without your sense of smell, you can't anticipate your food: smelling your food prompts the body to produce digestive enzymes that are necessary for good digestion. Smell is therefore important for getting nutrients from your food, which is not a function with which it is commonly associated.
Without your sense of smell, you can't take in the pleasant and often evocative scents around you: smells associated with happy times, peaceful happenings, exciting events.
Try to imagine what life would be like without the aroma of Christmas fare, autumn bonfires, summer roses, the first whiff of hyacinths in the spring or the smell of warm lavender at the end of a sunny day in the garden.
Aromatherapists are able to use our sense of smell to stimulate healing, with specific oils having a stimulating or calming effect on many aspects of our health. Some hospitals now use lavender oil instead of sleeping drugs, as it gives their patients a better night's sleep with no ill effects.
Without your sense of smell, you can't be warned of dangers such as food that's gone off or leaking gas.
What goes wrong
The nasal passages are lined with mucous membranes that secrete the familiar sticky stuff that can trap bugs and dirt and prevent them from entering the body via the nose.
If you are pouring mucus on a regular basis, something is irritating your mucous membranes, which have gone onto full defensive mode. You may be reacting to something in your environment, such as household cleaning products or chemical 'air fresheners'. You may be eating or drinking something that disagrees with you and the resulting toxins are being offloaded through the mucous membranes. You may be constantly exposed to pollutants that are attacking your nasal passages.
If this continues for some time, untreated, your sinuses (bony caves at the back of your nose) will fill up with the accumulated mucus, becoming painful and possibly infected. Your breathing will be affected and without sufficient oxygen being taken into the body, you may feel light-headed and dizzy, or have headaches.
What to do
Get out into the fresh air! Breathe deeply, filling your lungs with oxygen. Go to places where the air is not full of traffic fumes.
Avoid dairy products, which are a key cause of excessive mucus production. Ask in your local health store for dairy alternatives.
Change your household cleaning products for environmentally friendly ones without harmful chemicals.
Take an antioxidant, which will give you the nutrients you need to heal the mucous membranes.
Try these fresh herbs
Plantago for clearing mucus from your ear/nose/throat tract. Take a course of drops for at least a month.
A tincture of tropical herbs including Sponge Cucumber (Luffa operculata) for relieving hayfever-like symptoms: runny or blocked nose, itchy nasal passages or a general bunged up feeling with irritation and sneezing. It comes as a tincture, tablets or nasal spray, and works very quickly.
Galeopsis for strengthening your lungs. Take a course of drops for six months to repair the lining of the lungs.
TASTE
What it does for you
There are more than 3,000 nerve cells registering taste in the tongue!
Without our sense of taste, our digestive processes are severely curtailed. The stimulation of our tastebuds sends messages to the stomach to tell it that food is on the way, initiating good digestion. Bitter tastes are particularly good for our digestive system.
Without our sense of taste, our pleasure in our food is reduced to practically zilch. The joy of a good meal, the pleasure centres stimulated in the brain, the relaxation and sense of well being that this creates: all this is lost.
What goes wrong
We bombard our palates with food that is highly salted and sugared, until the tastebuds are 'dumbed down' and register less and less in the way of taste sensation. We lose the ability to savour natural flavours and crave only the artificial flavouring of processed foods. Not only does this fill us with chemicals, but it also means we are overdosing on sugar and salt, with negative health impacts.
Smoking also alters the sense of taste, and smokers need more highly flavoured food to stimulate their tastebuds. Again, this leads to the whole 'digging your grave with your knife and fork' scenario.
Too much sugar and alcohol can rot the teeth.
Periodontal disease can cause rotten tastes in the mouth, and digestion is once more impaired.
Being full of toxins, due to diet or lack of good bowel function or a healthy living style, can cause a metallic taste in the mouth.
What to do
Make sure your bowel is moving daily and focus on cleaning up your diet, consciously choosing foods that are lower in sugar and salt, and trying the flavours of natural fruits and vegetables instead of chemically flavoured foods. One of the most ridiculous things I have seen recently was the suggestion that vegetables should be made chocolate flavoured to entice children to eat them…
Sticking to plainer foods for a while will reawaken your tastebuds and do wonders for your digestion.
Look after your teeth too! Visit your dentist regularly! As well as a natural toothpaste, such as Rosemary, use a natural Mouthwash or Mouthspray to disinfect and refresh your mouth and gums without chemicals.
Take a zinc supplement (15mg daily) to improve a jaded or lost sense of taste. If your tongue is sore, you may be deficient in iron.
Use concentrated whey, created by Alfred Vogel, for oral thrush.
Try these fresh herbs
Plantago for clearing catarrh that may be blocking your sense of taste.
Centaurium for re-educating your tastebuds.
SIGHT
What it does for you
When we think of the millions of ways that what we see can affect our state of mind, we should realise that sight is precious for more reasons than allowing us not to bump into furniture. The sky, the sea, the plants and trees, people's friendly faces, the bright colour of your favourite sweater, the delicate colouring of a shell. Reading, appreciating art, watching films, writing to friends – all these things are rendered simple through the mechanism of vision.
What goes wrong
Although we are using our eyes all the time, they often don't get variety of exercise, and can get stuck on one range of vision. After a day staring at a screen or glued to the printed word, we may find that our long sight has blurred.
Some of us get little access to natural daylight for long periods of time. The eyes have to adjust to cope with neon or artificial light.
Stress is something that we recognise as having a detrimental effect on many aspects of our health, but it can also hurt our vision. The tiny muscles that work the eye can suffer from tension and this will affect the ability of the eye to adjust speedily to longer-range objects, giving us the impression that our long sight is worsening.
A lack of nutrients such as vitamins C and E can reduce the protection offered to the eye and make problems such as cataracts more likely.
Being exposed to irritants will provoke the eye into watering, in the same way that the nasal passages will produce mucus. It is designed to wash pollutants out of the eye, and is necessary for their protection. If you have constantly watering eyes then something in your diet or your environment is not suiting you.
What to do
Relax! Take some time out from staring at screens, books, magazines, the TV, and go for an energising walk, looking up at the sky or out to the horizon. Exercise your long sight: your eye muscles will benefit from exercise just like any other muscle in your body.
Pinhole Spectacles can act like a mini-gym for tired, sore muscles in the eyes, which refuse to focus on long distance objects clearly. Using them for 20 minutes a day can restore clarity to your vision. (For more information on Pinhole Spectacles visit: http://www.trayner.co.uk or call: 0800 0712020)
Get a book called Better Sight Without Glasses by Harry Benjamin and do the visual exercises he suggests.
Cut out dairy products for a while to see if your eyes stop watering. Try A tincture of tropical herbs including Sponge Cucumber (Luffa operculata) to give you immediate relief whilst you adjust your diet. On the other hand, if your eyes are unnaturally dry check with the doctor, as this can be a sign of an autoimmune disease.
If you work with computer screens all day, take an antioxidant that will provide your eyes with protective nutrients.
Try these fresh herbs
Bilberry for degenerative eye problems and for strengthening eyes that seem to be weakening. Especially good for those who work with screens or the written word regularly, and people who do a lot of driving and rely on good vision. Take internally.
Euphrasia for the immediate relief of tired, sore, red or puffy eyes. Taken internally it will reduce inflammation and allow healing to take place.
HEARING
What it does for you
Not only does our hearing allow us to receive verbal communication from other people, but it helps us to keep our balance. Anyone who has had a severe ear infection will know how it can cause vertigo.
Noises such as bird song, music and the sweet 'somethings' our lovers whisper in our ears add infinite pleasure to life.
What goes wrong
We can overstimulate our ears just as we can our tastebuds. Loud noises on a frequent basis will damage our hearing. Rock concerts, though enjoyed to the full at the time, may well be regretted later in life; and noisy jobs may take their toll on your hearing.
Catarrhal congestion will adversely affect hearing, with problems such as tinnitus also arising from blocked ear passages. Children are particularly prone to ear infections, which may trouble their hearing.
Constriction in the neck or tension that causes the blood vessels in the head to contract may also result in hearing problems.
What to do
Give your ears a rest every now and again; turn off the radio, the stereo and the TV and relax, listening for the quieter sounds such as trees rustling and birds chirruping.
If you think you may have suffered physical trauma to the head or neck area, or if you have had much dental work done, consult a craniosacral therapist or cranial osteopath. They may be able to right the delicate maladjustment. Consider this route especially if you have suffered whiplash in a car accident.
Avoid dairy products if you are prone to catarrh, as this will free your ear/nose/throat tract from congestion. It takes about three months for dairy products to get out of the system entirely. This is particularly important for children with repeated ear infections. There are plenty of nutrient-rich alternatives in health stores.
Take CoQ10 if you have dizzy spells. It is thought to help with Meniere's Disease.
If your fluid balance isn't great, drink more water and avoid caffeine and fizzy drinks, and use Dandelion tincture to help get rid of water retention. This may help your sense of balance. Avoid salting your food, as salt just adds to the problem.
Use a zinc supplement if your hearing is not as good as it was: zinc is important for good hearing.
Try these fresh herbs
Plantago for congestion in the ear/nose/throat tract. It clears catarrh and is great for children with glue ear, especially when combined with Echinaforce which fights infection.
Ginkgo biloba improves the blood supply to the head. This is good for the memory and also helps ear conditions that are caused by poor circulation. I find it useful for dizziness in elderly people who are not very active. Remember it can't be taken with anticoagulants.
Valerian may help reduce stress and tension that are causing constriction in the head and neck.
Take these steps and enjoy the Special Senses