Supplied with Booster Pump, Full fitting kit and faucet (tap).
In-Line Filter Reverse Osmosis systems
M500 reverse osmosis system uses the most advanced water treatment technology available. Reverse Osmosis is recognized as one of the best available technologies for producing high quality drinking water. It's also the same method used by many bottled water companies to make safe and great tasting drinking water.
The newly designed M series M500 is user friendly with design simplicity in mind. The in-line cartridge filter design makes filter changes fast, clean and easy. This space saving allows maximum use of your under counter space. The high quality booster pump can provide 100psi water pressure to pass through the membrane even in low water pressure areas. The booster pump prevents damage and prolongs the life of membrane, improves the TDS rejection and reduces waste .
With your own RO water filter system under your sink working for you twenty-four hours a day, you can have as much purified water at the touch of a finger whenever you want it.
Inline filters
Replacing the filters on this system is easy. Inline filters make cartridge replacement fast and clean, without contact with used filter material. No Mess, No Fuss with these filters just remove the old ones and install the new filters.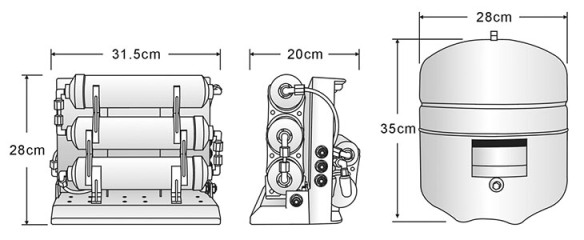 Features: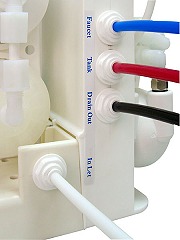 3.2 Gallons NSF Standards Water Storage Tank.
Complete 5 stage reverse osmosis water filter system.
The inline filter design makes filter changes fast, clean and easy.
Automatic Shut-off Valve (solenoid valve for booster pump type)
Flow Restrictor, Stainless Steel Check Valve.
Long Reach Chrome Faucet (upgrade faucet is acceptable)
Feed water connector & deliver valve
Drain Saddle Valve.
Easy installation, just plug & drink
Quick-connect fitting for easy installation.
Completely Assembled & Water leaking testing
100% Factory Tested and Sterilized Ready for Installation.
High capacity booster pump
In-Line Cartridge Filters:
Stage 1 5 Micron Sediment Inline Filter:
With only five micron ratings it is effective in removing dirt, rust and sand particles.
Stage 2 Activated Carbon Inline Filter:
Removes 99% of the chlorine and organic chemicals.
Stage 3 Activated Carbon Inline Filter :
Removes 99% of the chlorine and organic chemicals. Also provides enhanced reduction of odour and colour.
Stage 4 Reverse Osmosis Membrane:
A thin film composite (TFC) high quality membrane that processes 50 gallons per day. It removes the following hard water contaminants that may be present in your water: lead, cooper, barium, chromium, mercury, sodium, cadmium, fluoride, nitrite and selenium.
Stage 5 Post Carbon filter:


Specifications:
Production: 50 GPD / 189 LPD
Water storage tank: 3.2gallons / 12.2 litres
Operation pressure: 10 -80 psi
Dimensions (cm):
System - 20 (L) x 28(H) x 31.5 (W)
Tank - 28 (L) x 28(W) x 35 (H)
Weight (kg):
System - 6
Tank - 4