Supplied with Booster Pump, full fitting kit, Ultraviolet Steriliser and faucet (tap).
The RO101SV-UV reverse osmosis water purification system is one of the finest units in its class. The high quality booster pump can provide 100psi water pressure to pass through the membrane even in low water pressure areas. The booster pump prevents damage and prolongs the life of membrane and improves the TDS rejection.
With 80 gallons of safe, clear, refreshing water that is not only healthy to drink, but good for cooking. It uses no chemicals and provides premium quality water. It's capable of removing over 98% of total dissolved solids, +99% of all organics and +99% of all bacteria. It reduces up to +99% of the chlorine, as well as odours and sediment. The RO101SV-UV also removes the following hard water contaminants that may be present in your water: lead, copper, barium, chromium, mercury, sodium, cadmium, fluoride, nitrite, and selenium.
A combination of the world's best RO and UV systems. The UV light will disinfect filtered water at normal flow rate, providing one of the safest filtering systems available. Bacteria, viruses and other micro-organisms are destroyed.
This system hides away under your sink and puts healthy great-tasting water at your fingertips. Our RO105-UV comes complete with a NSF certified 3.2 gallons water storage tank and all the necessary fittings, installation kits, extra colour 1/4' tubing, and a European Designer faucet.

'View Instruction Manual'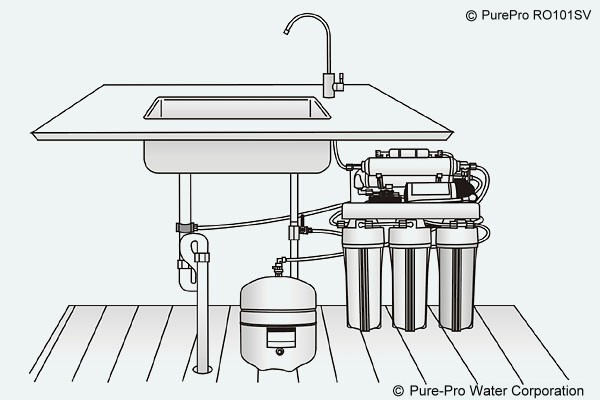 Features:
3.2 Gallons NSF Standards Water Storage Tank.
UV stainless steel steriliser - 1 gallon per minute / 3.8 litres per minute flow rate.
FDA Approved Polypropylene Made Flat Cap Housing (double o'ring).
Automatic Shut-off Valve, Flow Restrictor, Stainless Steel Check Valve.
European design attractive faucet.
Feed water connector.
Drain Saddle Valve.
Four Colour Coded 1/4 inch Tubing for System Connection.
Completely Assembled
High capacity booster pump
100% Factory Tested and Sterilized Ready for Installation.
Installation Instruction.
Cartridge Filters:
Stage 1 5 Micron Sediment Filter:
Five micron rating. It is effective in removing dirt, rust and sand particles.
Stage 2 Granular Activated Carbon Filter 10":
Removes 99% of the chlorine and organic chemicals. It provides enhanced reduction of taste, odour, and colour.
Stage 3 1 Micron Sediment Filter:
With only 1 micron rating, provides effective filtration to protect your membrane. It provides for improved membrane performance and up to 95% of TDS rejection.
Stage 4 Reverse Osmosis Membrane:
A thin film composite (TFC) high quality membrane that processes 80 gallons per day. It removes the following hard water contaminants that may be present in your water: lead, copper, barium, chromium, mercury, sodium, cadmium, fluoride, nitrite, and selenium.
Stage 5 Post Carbon filter:
This post carbon filter removes objectionable tastes and odours to enhance the quality of your drinking water. We only use NSF approved post carbon to guarantee the taste of water.
Stage 6 Ultraviolet Water Sterilizer:
Ultraviolet light (UV), a natural part of the sunlight is widely accepted as a reliable, efficient & environmentally friendly solution for water disinfection. Efficient UV radiator with a 254nm wave length to kill organisms and viruses. 99.99% DESTRUCTION OF BACTERIA AND VIRUSES
Specifications:
Membrane: 80 GPD / 302 LPD
With a transformer, available in 110Volt, 220Volt or 240Volt (50/60Hz).
Safety approval: TUV (EN60950) & CE MARK
Operation pressure: 5 -80 psi
Dimensions (cm):
System - 37(L) x 45(H) x 20 (W)
Tank - 28 (L) x 28(W) x 35 (H)
Weight (kg):
System - 13
Tank - 4
UV Steriliser Specifications:
1GPM Heavy duty stainless steel 304 pressure vessel. Heavy duty quartz sleeve. High output, hard glass UV lamps for maximum efficiency. CE ballast with lamp failure indicator.
Specification: 1gpm (gallon per minute)
Lamp watts: 6 W
Inlet/outlet: 1/4"NPT
Dimensions: 50.50 x 310 mm
Operating pressure: 85 psi max.
8000 hrs lamp life ( approx. 1 year of use)