Supplied with Booster Pump, full fitting kit and faucet (tap).
Auto Flushing Membrane System
As an industry leader for highest quality, state-of-the-art RO System we have designed this new electronic control box to automatically control the RO system and provide the highest quality water.
An auto flushing membrane is usually only installed in commercial RO units, we are the first to install it in our residential RO units.
Benefits
The built-in self-cleaning procedure means the membrane remains clean. With your own RO water filter system under your sink working for you twenty-four hours a day, you can have as much purified water as you want, whenever you want it.
5 Indicators : shows how it works
Full, Flush, Process, Source, Power.
Easy to control, the RO system warns the user of any problems.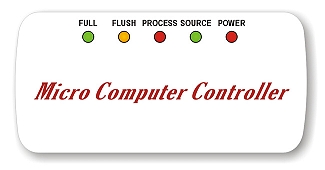 Features: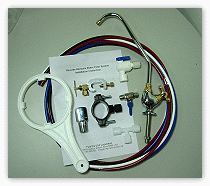 NSF Standards Water Storage Tank.
FDA Approved Polypropylene Made Flat Cap Housing (double o'ring).
Safety approval: TUV (EN60950) & CE MARK
Automatic Shut-off Valve
Special technical designs (Patented No.068018. flush membrane )
Flow Restrictor, Stainless Steel Check Valve.
European design attractive faucet.
Feed water connector & deliver valve
Drain Saddle Valve.
Four Color Coded 1/4 inch Tubing for System Connection
Completely Assembled & Water leakage testing
High capacity booster pump
100% Factory Tested and Sterilized Ready for Installation.
Pure Pro Installation Instruction.
The RO103 comes complete with a NSF standard 3.2 gallons water storage tank and all the necessary fittings, installation kits, colour 1/4'' tubing, installation manual and a long-reach attractive faucet.

'View Instruction Manual'
Cartridge Filters:
Stage 1 5 Micron Sediment Filter 10":
Effective in removing dirt, rust and sand particles.
Stage 2 Granular Activated Carbon Filter 10":
Removes 99% of the chlorine and organic chemicals. Provides enhanced reduction of taste, odour, and colour.
Stage 3 Block Carbon Filter 10":
Further reduces chlorine, odours, and other chemicals that might be in your water supply.
Stage 4 Reverse Osmosis Membrane:
A thin film composite (TFC) high quality membrane that processes 80 gallons per day. It removes the following hard water contaminants that may be present in your water: lead, copper, barium, chromium, mercury, sodium, cadmium, fluoride, nitrite, and selenium.
Stage 5 Post Carbon filter:
The final stage of filtration, Once the faucet is opened the water goes through a final carbon water filter that effectively polishes the water prior to your consumption. Creating the purest water that you are ever likely to tasteli>

Specifications :
Membrane: 80 GPD / 302 LPD
With a transformer, available in 110Volt, 220Volt or 240Volt (50/60Hz).
Safety approval: TUV (EN60950) & CE MARK
Operation pressure: 5 -80 psi
Dimensions (cm):
System - 47 (L) x 42(H) x 20 (W)
Tank - 28 (L) x 28(W) x 35 (H)
Weight (kg):
System - 14
Tank - 4