Quick-change cartridge RO system supplied with Booster Pump, full fitting kit, Ultraviolet Steriliser and faucet (tap).
The S500P reverse osmosis water filter uses the most advanced water treatment technology available. Reverse Osmosis is recognized as one of the best available technologies for producing high quality drinking water. It's also the same method used by many bottled water companies to make safe and great tasting drinking water.
Newly designed, the S500P is user friendly with design simplicity in mind. It requires no tools for filter changes. The twist, quick-change cartridge design makes filter changes fast, clean and easy.
The UV light will disinfect filtered water at normal flow rate, providing one of the safest filtering systems available. Bacteria, viruses and other micro-organisms are destroyed.
Easy Installation:
The stylish design of the PurePro S500 system was created to fit elegantly in any kitchen environment.An economical, friendly, easy-to-install and easy-to-maintain solution to your purified water needs. The quick-fitting connector design makes installation fast and easy. With your own RO water filter system under your sink working for you twenty-four hours a day, you can have as much purified water at the touch of a finger whenever you want it.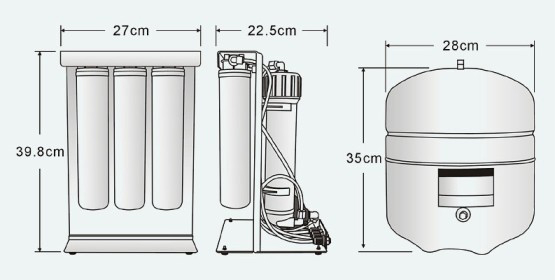 Features:
3.2 Gallons Tank
Complete 5 stage reverse osmosis water filter system.
The twist and quick-change cartridge design makes filter changes fast, clean and easy.
Automatic Shut-off Valve (solenoid valve for booster pump type)
Flow Restrictor, Stainless Steel Check Valve.
European design golden type faucet.
Feed water connector & deliver valve.
Drain Saddle Valve.
Easy installation, just plug & drink.
Quick-connect fitting for easy installation.
Completely Assembled & Water leaking testing.
100% Factory Tested and Sterilized Ready for Installation.
High capacity booster pump.
UV Stainless Steel Steriliser - 1 gallon per minute.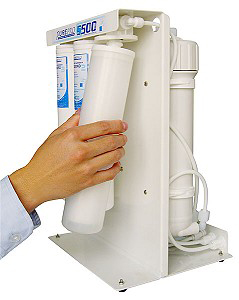 Quick-Change Cartridges:
Stage 1 5 Micron Sediment Filter:
Effective in removing dirt, rust and sand particles.
Stage 2 Granular Activated Carbon Filter:
Removes 99% of the chlorine and organic chemicals. It provides enhanced reduction of taste, odour, and colour.
Stage 3 Granular Activated Carbon Filter:
It takes out 99% of the chlorine and organic chemicals. It provides enhanced reduction of taste, odour, and colour.
Stage 4 Reverse Osmosis Membrane:
A thin film composite (TFC) high quality membrane that processes 50 gallons per day. It removes the following hard water contaminants that may be present in your water: lead, copper, barium, chromium, mercury, sodium, cadmium, fluoride, nitrite, and selenium.
Stage 5 Inline Post Carbon filter:
The final stage of filtration, Once the faucet is opened the water goes through a final carbon water filter that effectively polishes the water prior to your consumption. Creating the purest water that you are ever likely to taste.
Stage 6 Ultraviolet Water Steriliser:
Ultraviolet light (UV), a natural part of the sunlight is widely accepted as a reliable, efficient & environmentally friendly solution for water disinfection. The UV lamp utilizes a UV radiator with a 254nm wave length to kill 99.99% OF BACTERIA AND VIRUSES
Specifications:
Production: 50 GPD / 300 LPD
Water storage tank: 3.2gallons / 12.2 litres.
Operation pressure: 10 -100 psi
Dimensions: (cm)27 (L) x 39.8(H) x 22.5 (W)
Weight: 8.5 kg
UV Steriliser Specifications:
1GPM Heavy duty stainless steel 304 pressure vessel. Heavy duty quartz sleeve. High output, hard glass UV lamps for maximum efficiency. CE ballast with lamp failure indicator.
Specification: 1gpm (gallon per minute)
Lamp watts: 6 W
Inlet/outlet: 1/4"NPT
Dimensions: 50.50 x 310 mm
Operating pressure: 85 psi max.
8000 hrs lamp life ( approx. 1 year of use)